Zumbi Azul



First Game

Capoeira Fighter 3

Race

Human (under the effects of macumba)

Name

José Araújo Mendes Neto

Origin

Manaus, Brazil

Fighting Style

Capoeira (under the power-ups of the macumba)
Mestre Zumbi has sought revenge against Mestre Loka 
since their Mestre, Katigura, overlooked Zumbi and chose  Loka to succeed him. Zumbi is constantly looking for ways  to usurp and humiliate Loka. In recent years, he has  gained several followers, including Primo, Loka's former  prize student. After learning of Loka's plan to take his students on a world  tour, Zumbi has been making some plans of his own. He  has begun studying macumba, a form of black magic, in  the hope of increasing his power.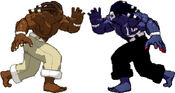 Community content is available under
CC-BY-SA
unless otherwise noted.